How CyberGRX Compares to GRC Tools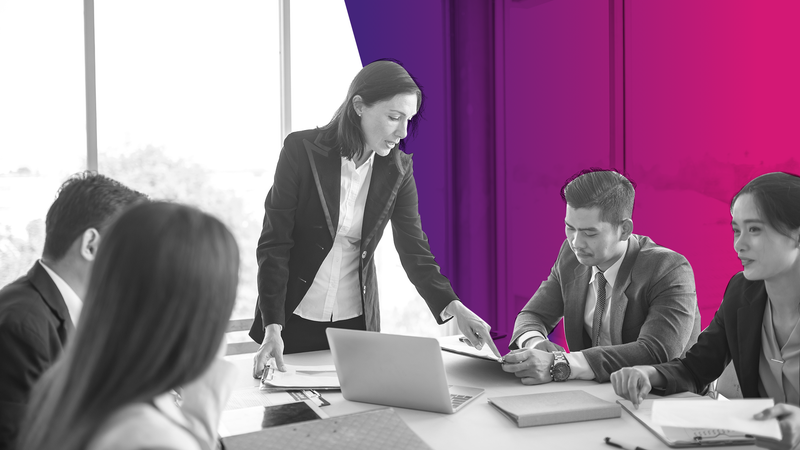 For organizations who are managing large volumes of assessments, GRC tools can be attractive options. With an emphasis on workflow capabilities, GRC tools are helpful in organizing and prioritizing assessment programs across teams and vendors. However, despite their efficiencies, GRC tools place the focus on data collection rather than data insights, which unintentionally deprive businesses of deeply understanding and analyzing their third-party risks and pain points.
If you look closely into how GRC tools function, the reality is they are little more than automated spreadsheets. Like a spreadsheet, GRC tools provide static, point-in-time information but do not yield continuous, real-time insights that give businesses the actionable data they need, when they need it. GRC tools are often used by organizations who focus on compliance and prioritize meeting regulatory standards. But beware– compliance is not the same as managing risk, and GRC tools provide little support for cyber risk remediation, or reversing, correcting, and eliminating risk. Additionally, GRC tools tend to be expensive and resource-intensive.
The bottom line: GRC tools are centered around workflow capabilities and help businesses organize assessment programs, but they don't give cybersecurity professionals the full data story to build organizational confidence in a TPRM program. Luckily, CyberGRX does.
The CyberGRX Advantage Over GRC Tools Alone
CyberGRX provides cybersecurity professionals with more comprehensive capabilities than just assessment requesting and tracking. Because evaluating a vendor and managing third-party risk extends far beyond a point-in-time assessment, CyberGRX provides an arsenal of predictive analytics and third-party threat tools, to help you prioritize your greatest risks and drive efficiency throughout your entire cyber risk management program. Additionally, CyberGRX is built on a collaborative philosophy– your third party risks are best managed and mitigated when you can work with the third party involved, not just collect the information and hope for the best.
Standardized Data
Unlike other exchange models, the CyberGRX Exchange is a shared dialogue between customers and third parties. One of the key features of the Exchange is that it's built on standardized data. Because assessment data is in a common and unified format, it can be trended and compared over time. Additionally, standardized data allows you, the customer, to compare vendors, if you're choosing between similar providers.
GRC tools collect data, but do not standardize it, meaning assessments may be customized. When all data is in a consistent format, comparing assessment answers and identifying changes can be done efficiently. CyberGRX leverages machine learning and AI to shift the time-consuming and cumbersome task of data comparison to a machine, freeing up human resources for data analysis and strategic action.
Portfolio-Wide Risk Management
While GRC tools provide a view of your risk management program, only CyberGRX provides portfolio-wide risk surface visibility: see across ALL your vendors. Know where your security gaps exist. Only CyberGRX equips you with automated risk ranking and remediation prioritization along with actionable, relevant insights built from our structured database of 14,000 attested assessments and 250,000 companies. When you have continuous, real-time insights, you're better equipped to stay up-to-date on your vendors' risk posture and address problems quickly and effectively.
Efficiency and Contextual Visibility
While allure of GRC tools is their workflow capabilities, CyberGRX streamlines your assessment process, too. Don't have time to wait for a vendor to complete a questionnaire? Make initial decisions from predictive data and follow-up on specific areas of concern. Only CyberGRX provides contextual visibility into your risk posture to make faster, more informed business decisions while also protecting you from emerging and existing cyber threats.
CyberGRX Integration with GRC Tools
We recognize many organizations already have GRC Tools in place and may want to retain them. CyberGRX offers GRC tool integration via the CyberGRX API and through our exclusive CyberGRX/ServiceNow connection. By integrating both GRC and CyberGRX tools, CyberGRX assessments can be pushed to a remediation workflow and GRC customers will have access to company profiles within the CyberGRX Exchange, inherent risk data, attested assessment findings, scores, and analysis. To learn more about integrating your GRC Tool with CyberGRX, contact our sales team.
Functional Comparison of CyberGRX and GRC Tools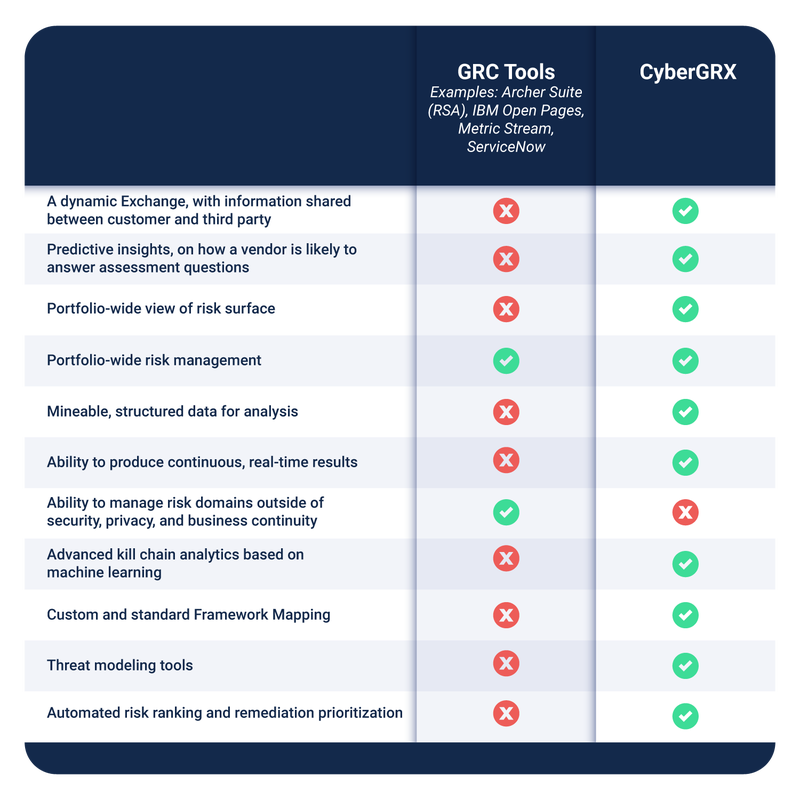 Compare for Yourself
Choosing the right TPRM solution for your organization is a big decision. Even if you're not sure about using GRC tools vs. a risk exchange or the benefits CyberGRX offers you, we invite you to book a no-obligation demo. See how it works. Give us a list of your third parties and we'll show you the risk that they pose to you as well as the tools available to help manage your vulnerabilities. If nothing else, you'll walk away with valuable insights about your third party blindspots. Book a demo now.