Meet Bryan, Senior Product Manager
1. Where did you grow up?
I grew up in the Dayton, Ohio area, but I have lived all over the United States for school and work.
2. What brought you to CyberGRX?
My background is in product development with experience in media and human capital management startups. However, I have had strong interest in cybersecurity for a long time so the opportunity to join a growing startup within the security space was too much to pass up.
3. What do you do at CyberGRX what's your typical day like?
I probably have one of the most varied schedules within the company. Product management interacts with all portions of the business. I may be leading customer research one day and heads down testing a release the next.
4. What advice would you give to your teenage self?
Move aggressively towards your goals but stay to the middle path while pursuing them. Little good happens in life at the extremes.
5. What's your favorite thing about Denver?
The general quality of life in Denver. It has a great mix of outdoor activities, music, and sports. The 270 days of sunshine per year here is also hard to beat.
6. What's your hidden super power?
My ability to orient quickly to a new situation. It has served me well in my career and I enjoy the challenge of learning something new.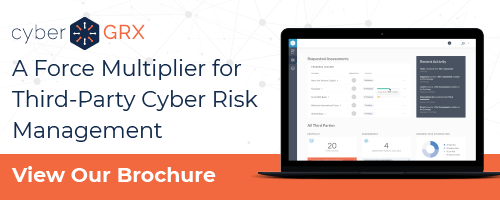 Join 10,000+ risk professionals who subscribe to the CyberGRX Newsletter