My CyberGRX Journey: Seth Williams
In this reoccurring series, we speak with CyberGRX team members about why they joined the company, what their experience has been like, and what they're looking forward to the most.
Here we chat with Seth Williams, Director of Major Accounts.
How long have you been with CyberGRX?
5 years.
Why did you select CyberGRX over other employment opportunities?
When I first met the team at CyberGRX, it was only 30 people in a small office with an amazing disruptive idea and some funding to go after it. The biggest thing I noticed was that it had all the exciting attributes of being a startup, but it was missing many of the toxic elements. Long story short, it wasn't just a bunch of 25 year old bros working around the clock and burning out. Most of the team were older and more experienced with families and lives outside of work. Folks truly made their own schedules that conformed to their lives. The leadership was thoughtful, warm, and I could tell that they were strapping in for the long haul with a measured and methodical mind towards sustainable growth.
How has your job changed over your time here? Please list titles, the amount of time at each position/level, speak to how responsibilities have grown/changed.
I'll keep this one short. CyberGRX has changed my life.
CyberGRX hired me freshly graduated from college. I was eating stale pizza and counting quarters to fill up the gas tank. :) They took a chance on me with an entry level sales position, invested in me, and I've been promoted every single year (5 times). I'm now a Strategic Account Manager and I work with the biggest companies in the world.
CyberGRX gave me a career and the skills to support my family. Besides the monetary reward, I've earned a world class education in entrepreneurship and the skills to feel confident that I'll always have a job in this field.
What keeps you at CyberGRX?
During the last year of pandemic, my mental health was in shambles. Can you relate?! I felt incredibly blessed to have a stable career and security through the pandemic, but I was also caring for a gravely disabled family member who's situation was and continues to be a near constant state of emergency. I felt depressed, anxious, paralyzed, and I knew my work was suffering. I simply couldn't give 100% at work. I was lucky at times if I could show up 15%...
At some point, I made the decision to talk to John Mayhall, our Chief Revenue Officer, and I simply told him: "I'm not OK and I feel like I'm dropping balls at work. I simply can't contribute the way I want to." John was not concerned with my performance and instead he encouraged me. He told me to take as much time and space as I needed and helped make a plan for me to offload as much work as possible. He checked in on me and never made me feel like my livelihood was at risk for disclosing what I did.
Being honest with John didn't have any negative impacts on my career growth. He promoted me two months later.
Having said that, I'm a leader on the D&I committee and I consider it to be the most important work I do here, including mental health and neuro-diversity. Our company increased representation by a staggering percentage last year and we've got ambitious goals this year as well.
Besides the tactical layer of creating a more diverse and inclusive organization, my boss Andy Kellam reminds me that we also want to cultivate a sense of belonging for everyone we hire. This is not the typical competitive environment where we are all pushing each other out the way to get to the top. We're all on the same team and integrity is rewarded here.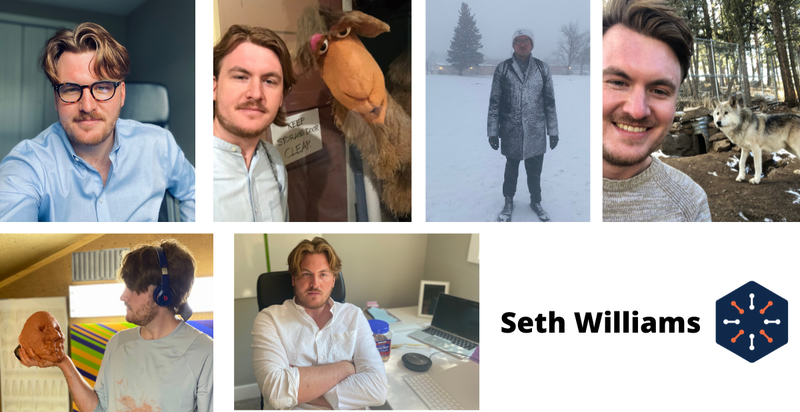 What is one piece of advice you'd give to someone just starting out at CyberGRX?
Balance being a student, being humble, constantly asking questions and learning… with taking bold action on limited information.
Where do you see yourself professionally in 3 years?
I'd be lying if I said I still saw myself at CyberGRX though I'm not closed off to the possibility. I don't take for granted how good I've got it here, and I could definitely see myself working here for much much longer. That being said, I've been at CyberGRX for 5 years and learned an enormous amount about creating a business. I want to help CyberGRX achieve some of our greatest goals in the next few years then potentially start my own company. (Maybe I'll help my wife build her children's media and toy company, MindScribe!)
How does the leadership team help set the vision for the company and how does that trickle down to the individual departments?
KPI's, goals, metrics, pillars, diagrams, frameworks. These are all useful tools but I think our leadership is most adept at pulling us into the story. We're on a journey to help make the world a little safer. Cyber attacks have real world implications. Not to get too dark here, but there are cyber attacks that threaten the water supply, essential utilities, national security, etc. It's important work that we're doing. We're not building another app to send you a notification on your iWatch when your breakfast is automatically prepared by your sentient toaster.
What most excites you about the future of CyberGRX, cybersecurity, and/or your career path?
CyberGRX is ranked as one of the top 200 fastest growing companies in the US. Cybersecurity as an industry is exploding but we have a job shortage of 500,000 jobs. This is the recipe for upward mobility!
Get Cyber Risk Intel delivered to your inbox each week: