My CyberGRX Journey: Chris Coberg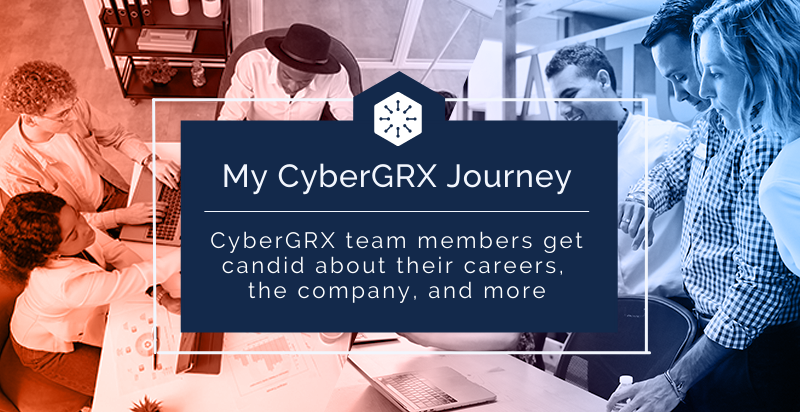 In this reoccurring series, we speak with CyberGRX team members about why they joined the company, what their experience has been like, and what they're looking forward to the most.
Here we chat with Chris Coberg, Account Manager.
Name: Chris Coberg
Time with CyberGRX: 7+ months
Why did you select CyberGRX over other employment opportunities?
As I was considering opportunities I had three guiding principles:
I wanted a company whose interests were vested in the future. I wanted to board a plane that was preparing for take off. I wanted to get in a car that had no rearview mirrors. I could keep going, but I'll spare you any more metaphors!

The product needed to be relevant today and it needed to solve a real problem. It also needed to be something that I could see evolving, that could be more important in the future than it is today.

Finally, I wanted to work in an organization where I could learn and grow (I know, I know…you've probably heard that before.) I felt like I knew what I was bringing to the table and where I could use some additional help, so I wanted to find a company and a leader that agreed. That was the harder piece to sort out. I had some knowledge of CyberGRX, knew a few people who worked here, and had the opportunity to meet more through the interview process - notably our CRO, John Mayhall. As I gained more insight and had conversations about the company direction, what we were trying to achieve, and what my role in success looked like, it became very clear that CyberGRX was the right place for me.
How has your job changed over your time here?
I was the first Account Manager hired for this new function/team at CyberGRX. After initial onboarding it was time to quickly figure out how to have as much impact on as many of our customers as possible when it came to renewal and growth. That was a great experience, allowed me to drink from the proverbial water hose, and I learned A LOT! With a new leader and team in full effect, we've been able to focus our energy and provide a greater level of support to our customers as they build and manage their specific third party risk programs. My purview changed very much from the macro to the micro, and I've enjoyed every minute of it!


What keeps you at CyberGRX?
I just got here! But everything I said that I wanted in a new job - I found it here. Everything and everyone lived up to my expectations. The company and product are "ready for take off". My new people leader, Andy Kellam, is challenging and supportive. While we work incredibly hard and take our work very seriously, I have a great work life balance. I am learning every day, and I feel like I'm adding value at the same time. That's a pretty good recipe for job satisfaction.
Also, I think it is pretty great that in my career, every company I have worked for has placed an emphasis on diversity and inclusion. At CyberGRX it feels a little different, more action, less lip service. There is a concerted effort around this from the board level down and our D&I committee up; I see it at every level. I think everyone in our organization is on the same page that respecting people's unique needs and perspectives is vital to our culture, creates a better place to work, and contributes to our overall success.
What is one piece of advice you'd give to someone just starting out at CyberGRX?
Our People Ops Team and our Leadership Team are pretty bright people. They saw something that they liked about you, that they appreciated about your experience, and that would help CyberGRX. There is no doubt that Cyber Security is an intimidating space, but if you just bring confidence in your abilities, an open mind, and a desire to add value you will do great!
Where do you see yourself professionally in 3 years?
In three years I want to be in a positive environment, doing meaningful work, and leading a team that understands the value in what they do. This is actually my first role as an individual contributor, and I love it! I do think at some point I'll want to be leading a team again. I'd love to be leading a team that I helped build, here at CyberGRX, telling stories about what it was like before we were a billion dollar company!
How does the leadership team help set the vision for the company and how does that trickle down to the individual departments?
From day one I understood our company mission, "To map the cybersecurity reputation of every company in the world". What I think our leadership team does incredibly well is create a vision that enables that mission. A vision has to be flexible and creative where a mission is fixed. It has to unify teams while respecting differences. It needs to be built off core values, but be dynamic and updated with new goals. I hear and understand more about the evolution of that vision at every All Hands meeting, in every single department meeting, every team meeting, and at every 1 on 1. That constant conversation helps me relay our vision to our customers, and it gives me the avenue to push customer feedback back to leadership to help drive the next iteration of our vision.
What most excites you about the future of CyberGRX, cybersecurity, and/or your career path?
Our product and market are coming together at the right time. CyberGRX's solution is really unique and powerful, and it literally gets better every day. As far as the market, there is an ever increasing reliance on third parties to do business, and it seems like almost daily there are new threats, cyber events and vulnerabilities. We are well positioned to do something incredible, and I am excited to be a part of the run we're about to make.
Get Cyber Risk Intel delivered to your inbox each week: