My CyberGRX Journey: Angela Pardikes
by CyberGRX
In this reoccurring series, we speak with CyberGRX team members about why they joined the company, what their experience has been like, and what they're looking forward to the most.
Here we chat with Angela Pardikes, Sr. Director of Engineering.
How long have you been with CyberGRX?
1 year 3 months.
Why did you select CyberGRX over other employment opportunities?
When I first started looking for other opportunities it wasn't because I was unhappy with what I was doing. Quite the opposite, I loved working with one team I managed and I knew that it wouldn't be long before the work moved into more of an operations and maintenance (O&M) mode, so I started looking because I wanted to find somewhere I could continue working with agile software development teams to help them grow.
I was pretty picky with the roles I decided to apply for, and when I read the role for Engineering Manager I knew it fit what I was looking for. While I was interviewing for CyberGRX I was also given the opportunity to interview for an IT Director role that, had you asked me a year earlier, would've been my lifetime dream job.
As luck would have it, I was offered both roles. I immediately accepted the IT Director role because, why wouldn't I take a role I had always thought was my dream role? But it didn't sit particularly well with me. I kept thinking about my interview with CyberGRX and how excited and interested I was in the work and opportunity to do what I had set out to find in the first place. After talking to several friends and peers, one of them finally said to me "It really sounds like you're excited about this opportunity at CyberGRX." I realized he was right, and as much as it hurt to do so, I called the CIO and had the extremely hard conversation of turning down my once dream role. Over a year later and I still don't regret that decision. If anything I am more excited and vested in this company than ever.
How has your job changed over your time here? Please list titles, the amount of time at each position/level, speak to how responsibilities have grown/changed.
Has my job changed? Boy has it ever.
I was hired as an Engineering Manager and was in that role for exactly 1 year. The role gradually grew over time and gave me ample opportunity to really learn our platform and systems. I started off managing a single pod (team) which quickly grew too large and needed to be split into two pods. I continued to take on additional management/leadership tasks to help build our org and put systems into place to allow for mentoring and career growth, and then around 8 months I took on management of all four of our feature pods, which led me to my next role.
My next role was as Director of Engineering where I took on more responsibility for the engineering org above and beyond just managing feature pods. We identified a need to expand our breadth of experience, knowledge, and just general manpower. Our platform had matured considerably, and we were ready to determine a new and exciting direction.
So now, 1 year 3 months after I was hired, I am now taking on the role of Sr. Director of Engineering (dream role anyone?) where I will be working to bring engineering standards, processes, career development, and growth plans to engineering as well as working to solidify our new combined "prodgeneering" org in order to create the best working environment that focuses on the health and well-being of our team members.
What keeps you at CyberGRX?
So many things. First and foremost it's the people. We have a ridiculously talented group of product managers, product owners, and engineers. With this group I feel as though we can accomplish anything we set our minds to.
I love that I am able to affect change at CyberGRX. Leadership is open to new ideas and places trust in the individuals to help guide and make decisions to push the company in the right direction.
I am super excited about the work we do. GRX 2.0 has so much potential and I just see limitless possibilities.
I am continually impressed with our E-team and their genuine concern and interest in the health and well being of not just our platform, but also the individuals and org as a whole.
I love the transparency of our monthly all company meetings. We get to see what's going well, what's not going so well, and that is just so refreshing.
And while I already said it, the people here are just top notch and make it so I don't want to leave.
Finally, the fact that we have a focused Diversity & Inclusion (D&I) initiative for our size company is a massive step in the right direction. I value the opportunity to be involved with the D&I team and appreciate that this team makes the effort to really highlight the uncomfortable and often time sensitive subjects that come up.
One of my favorite efforts thus far is one that not many people probably have the chance to see, and it was around hiring. Not finding candidates, but in addressing how we evaluate skill sets and taking a broader look at breaking down where critical skills could come from. At my last company the requirements for an engineer were so rigid. You had to have a computer science or engineering degree, years of experience were tightly defined, and anything that fell outside of these subjective measures were not really discussed. Here, our engineers come from all sorts of backgrounds and schooling, and as a result we have some great out of the box thinkers and more raw talent than I've ever seen before.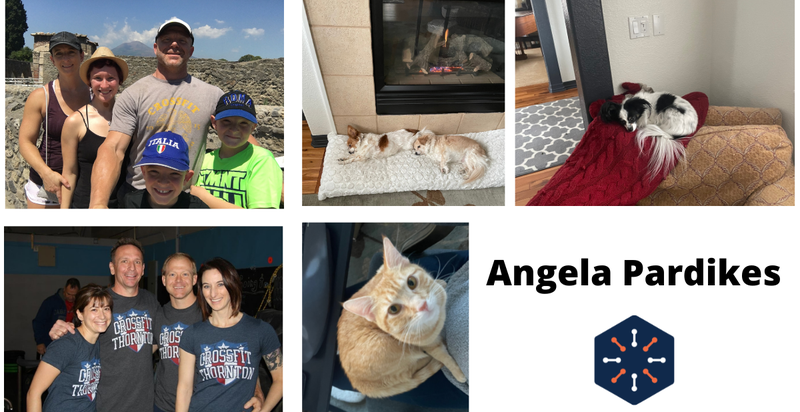 What is one piece of advice you'd give to someone just starting out at CyberGRX?
Don't beat yourself up, there is a lot to learn and it takes time to gain the context you need to be effective. When it comes to engineering, our system can be challenging to pick up. There is so much tribal knowledge needed in order to understand everything, and we're constantly working to enhance the product, which adds even more.
Where do you see yourself professionally in 3 years?
When asked this question I always have the same answer, I don't know. I don't know not because I don't know what I would like to be doing, I know I want to continue growing and excelling as a leader, I know I want to continue expanding my knowledge of our platform as it transforms and to deepen my overall technical knowledge of how the nuts and bolts work. But if I've learned anything during the course of my career it's that growth and career advancement can happen along many different vectors and by being open to other opportunities, you may not end up where you expect but you will likely end up where you should be. So, where do I see myself in 3 years? We will have to wait and see where I end up, but I do know I'll approach the journey with the same continual growth mindset I have always had.
How does the leadership team help set the vision for the company and how does that trickle down to the individual departments?
The vision set by the leadership team doesn't happen in a vacuum. While I've only had the privilege of being in a handful of working sessions with the E-team, I was able to glean a very good look at how the team works as a whole and considers vision and direction from many different angles vs. just what suits a single org. The result is by the time it is trickled down to the different orgs and individuals, the vision has been refined and simplified in a way that everyone is able to see themselves be a part of. I don't know that people know how difficult this is to achieve, but having been part of a much larger organization for many years, I can say with certainty this takes a lot of effort and is not something every company is good at.
What advice would you give to other women looking to get either cybersecurity or the tech space in general?
Trust in your ability and never apply for any job you feel 100% qualified for. We as women often do ourselves a disservice by doubting our abilities to the point where we don't want to put ourselves in a position where our knowledge or experience can be questioned. I was at an HR conference years ago and was startled to learn that men, when reviewing job opportunities, will apply to roles far beyond their current capabilities because they are confident that they will be able to pick up and perform the job at a high level in short order. While women will review job opportunities and only apply to those for which they match every requirement, every bullet point, and every skill. My advice would be to stretch yourself, be confident, and go for it.
What most excites you about the future of CyberGRX, cybersecurity, and/or your career path?
What excites me most? I can't pick one thing so I'll try to narrow it down to a few. I'm excited for the new direction we have envisioned for engineering. I can't wait to start working on our new architecture initiatives and features for GRX 2.0. I'm excited about my role in being part of this transformative engineering work, and I can't wait to see what new doors predictive opens for us.


Get Cyber Risk Intel delivered to your inbox each week: