My CyberGRX Journey: Alana Stroud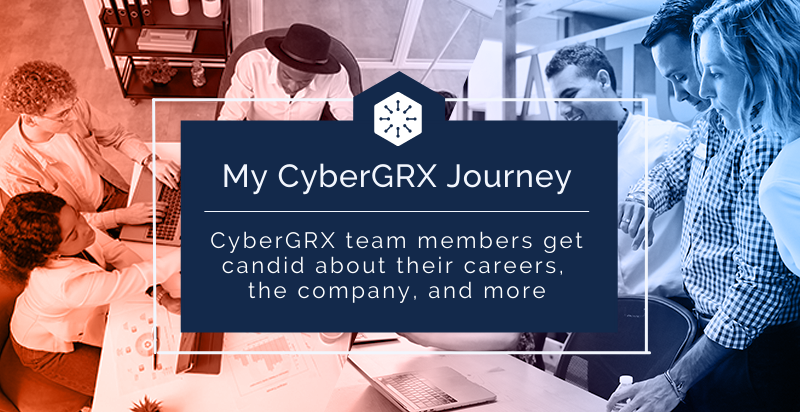 In this reoccurring series, we speak with CyberGRX team members about why they joined the company, what their experience has been like, and what they're looking forward to the most.
Here we chat with Alana Stroud, Cybersecurity Risk Content Analyst.
Name: Alana Stroud
Time with CyberGRX: About 6 months
Why did you select CyberGRX over other employment opportunities?
I honestly can't even remember applying for this role, or coming across it, but I must have! When I was contacted for an interview the role sounded so exciting to me. I was certain they were looking for someone else and accidentally got me instead. I didn't feel qualified. After all of my interviews with several incredibly inspiring people that seemed intelligent, professional, and kind, I was pretty certain I would be happy here and maybe even fit in! The benefits and pay were dreams for me, and now they are reality. Who could say no to that?! I knew I was more than a little bit over working in Security–even though I miss it sometimes!--and going into TPRM and being able to practice Governance, Risk and Compliance was more near and dear to my writer/researcher heart than Security Analyst roles were.
How has your job changed over your time here?
I think the only way my job has changed since being here is by my bringing myself into the role. I have been told several times by different people that I am doing things not previously done, and that's a huge driving factor for me. I want to provide value in all kinds of ways. I want to be innovative and not just fit into a box. I love that I can bring creativity into my technical role and have them blend. My time here so far has been short, so I am excited to see how it does evolve as time goes on!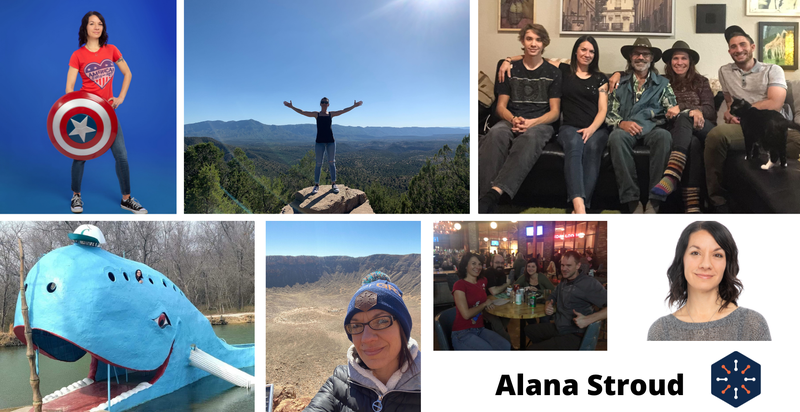 What keeps you at CyberGRX?
I have a supportive, hilarious, amazing boss I get to report to and work with on a daily basis. I have quite the cast of characters among my coworkers that I get to learn from and enjoy interacting with. I get freedom in my role to do what I think is best for our company. I am trusted and respected by my peers. I am given opportunities to grow and learn and chase after education I think will serve me and CyberGRX well. And I'd be a big fat liar if I didn't say the benefits and pay are AMAZING!
What is one piece of advice you'd give to someone just starting out at CyberGRX?
Talk to people. Meet with folks, don't be afraid to ask questions, jump in! Don't pigeonhole yourself to just the job description; make the role yours and bring to it what we hired you for: you.
Where do you see yourself professionally in 3 years?
I dislike the "in xyz years" question because I literally have no clue. I didn't know I would be HERE two years ago! I was driving Lyft full time and having a blast. Before that I worked at a goat farm for five years. I've also been a freelance writer since 2008. I just have no clue where the winds of opportunity will take me. I will say that what I would LIKE to see happen is a continued upward trajectory with CyberGRX which enhances my GRC knowledge and expertise. I would like to possibly expand into other roles and/or learn new skills.
How does the leadership team help set the vision for the company and how does that trickle down to the individual departments?
The first All Hands I watched (it was a past one uploaded online) was REALLY inspiring! I felt like our CEO, Fred, was just on fire. I thought, "this is a guy who really cares about his people and being successful as a TEAM." And I truly feel he does. I don't know the rest of the leadership team to speak for them, but the Chief Product Officer that I report to, Frank, is also incredibly kind and selfless and just wants us all to be happy and successful as people and as a company. They stress the values they want us to abide by not to be dictators, but so that we are all singing from the same song sheet. When people are positively uplifted yet held accountable, I feel like that's when real change happens and people can truly shine.
What advice would you give to other women looking to get either cybersecurity or the tech space in general?
Cybersecurity and Technology are spaces for women; this isn't a Boys Club. Women have brains that just as easily adapt to the STEM industries as men. I haven't faced any opposition thus far because of my gender. If anything, people have been extremely kind, welcoming, and accepting, and there are a lot of powerful female influencers in this space that I follow on LinkedIn. CyberGRX is actually full of insanely smart women who do things that blow my mind. I was the only woman at my last company, so it's been quite a welcome change!
What most excites you about the future of CyberGRX, cybersecurity, and/or your career path?
I know without doubt we are going places. We will mature as a company, we will offer products that are like none other, we have talent that will far surpass expectations, and we will become the thought leader in this realm. I think there will be growing pains like any other company faces, but those challenges will set us up for success. I read Will Smith's biography, and one of the things he said stuck with me (and I'm paraphrasing): "We all think we go out into the world and we're not supposed to fail. We're supposed to know how to be successful right away without falling down and making mistakes. Wrong. It's actually the opposite. Life is about learning. We are supposed to mess up and fail and fall on our faces. It's what we do with those lessons that dictate the paths our lives take, and that's how we ultimately become successful, intelligent, and win. It's how we learn to appreciate what we have. Just like we are born not knowing how to do anything, so is the rest of life: it's one giant lesson, and we're supposed to suck before we get better." That's similar to how I see CyberGRX. We've missed the mark a few times, we've made mistakes once or twice, but it's alright. We're still growing! And it's the same with my career. It's been hard work to get here, and I've failed a bunch. However, I will only gain value moving forward; I will never have to go backward again. That's a great feeling.
Get Cyber Risk Intel delivered to your inbox each week: