Fred Kneip of CyberGRX Wins EY Entrepreneur Of The Year 2021 Mountain Desert Region Award
by CyberGRX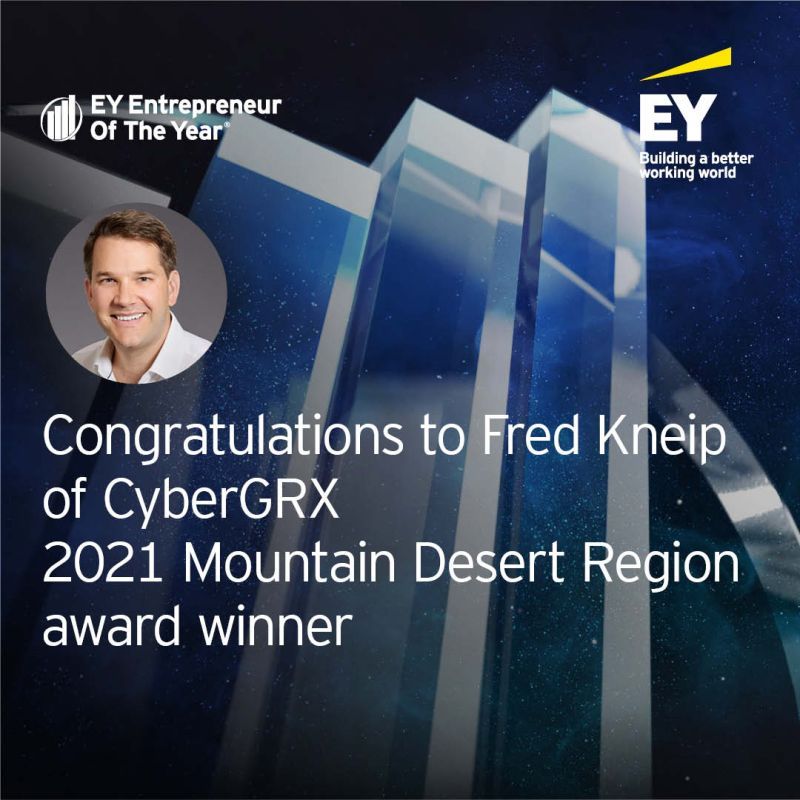 We're very excited to announce that our CEO, Fred Kneip, was named an Entrepreneur Of The Year® 2021 Mountain Desert Region Award winner! Now in its 35th year, the Entrepreneur Of The Year program is one of the preeminent competitive awards for entrepreneurs and leaders of high-growth companies. Kneip was selected by an independent panel of judges, and the award was announced during the program's virtual awards gala on Wednesday, July 28, 2021.
Kneip leads CyberGRX with compassion and a clear vision for the future. He is committed to supporting his team to grow their careers and help with their personal, and professional development. Stronger together, they drive innovation for the company, their partners and customers -- transforming third-party cyber risk management and building a community of security professionals who are dedicated to reducing cyber risk and putting a stop to the domino effect historically caused by third-party breaches and security incidents.
I am thrilled and honored to have been selected by EY as an Entrepreneur of the Year and I look forward to continuing to foster the entrepreneurial spirit they recognized," said Kneip. "I could not have done this without the incredible support from our team. Here at CyberGRX we are committed to our mission of leading change within the third-party cyber risk market, by bringing a modern, dynamic solution to organizations to support them in identifying and addressing risk within their vendor ecosystems. Together, we will pioneer a more secure future.
All nominees were evaluated based on six criteria: entrepreneurial leadership; talent management; degree of difficulty; financial performance; societal impact and building a values-based company; and originality, innovation and future plans. Since its launch, the program has expanded to recognize business leaders in more than 145 cities in over 60 countries around the world. As a Mountain Desert Region award winner, Kneip is now eligible for consideration for the Entrepreneur Of The Year 2021 National Awards, which will be announced in November at the Strategic Growth Forum®.
You can watch a replay of the event here.
Get Cyber Risk Intel delivered to your inbox each week: