Getting Buy-In and Commitment in Third-Party Cyber Risk Management
by Michelle Krasniak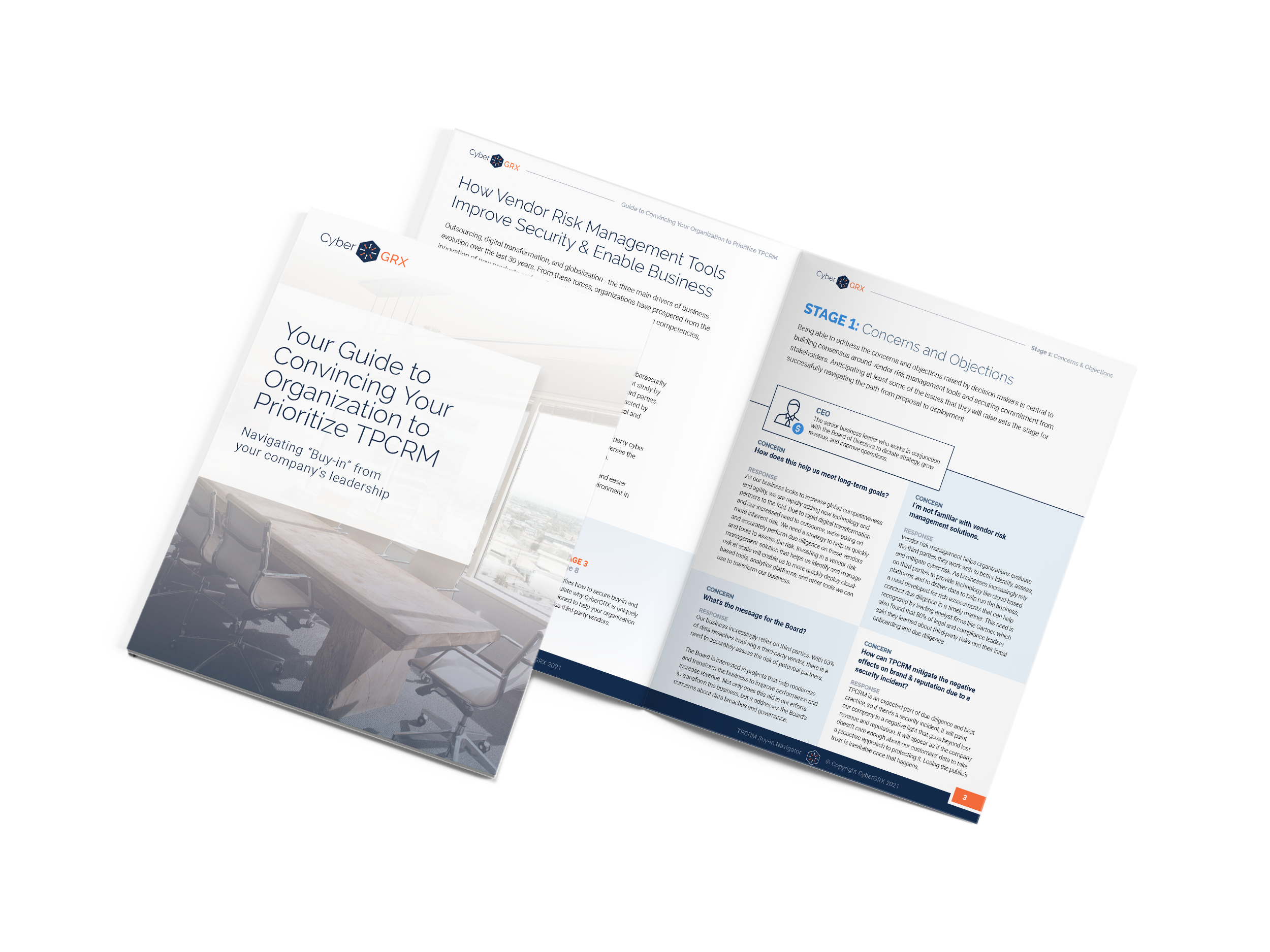 When it comes to building a secure third-party cyber risk management strategy, being able to address the concerns and objections raised by decision makers is central to building consensus around vendor risk management tools and securing commitment from stakeholders. Anticipating at least some of the issues that they will raise sets the stage for successfully navigating the path from proposal to deployment
However well the third-party cyber risk management vision has been conceived, it needs to be translated into actionable planning based on real-world solutions. Only by selling decision makers on those specifics is it possible to get the buy-in and commitment that are needed before the measures can be implemented.
Decision makers need more than assurances of the solution's quality. They need to know that it will satisfy their immediate as well as longer-term strategic needs. Painting your vision of the future—fast, thorough, affordable assessments of third-party risk— based on the solution you are proposing gives you the opportunity to show them how it will help the organization flourish.
Here are a few tips for communicating the importance of a TPCRM program to decision makers who are an integral part of the purchase process.
We need a plan for intelligent growth that includes best-of-breed partners and tools and a focus on data security.
By more quickly and thoroughly conducting our due diligence, we can improve our onboarding times for new partners. This will allow us to respond quickly to changing markets and shifting customer demands. We cannot sacrifice security as part of this effort. Our current methods of assessing risk from third-party vendors are neither scalable or in-depth enough to meet our current and future needs.


We need better visibility into the risk we're exposed to through our third-party vendors.
As the number of third-party and cloud-based tools in the organization grows, we need the ability to quickly determine and manage the risk. Our data no longer resides in our data center alone. It's in various applications and cloud environments, which is a potential problem for compliance and security. When we have the ability to quickly identify and reduce risk, we can make well-informed decisions about the partners we work with and the tools we use. Furthermore, the crowd-sourced data we get from an exchange means we have more leverage when it comes to requesting corrective actions on the part of the third party.


We can enable you to more quickly and efficiently do your job with
help from a third-party cyber risk management solution.
The right TPCRM solution can help you scale and simplify your efforts to vet new vendors and partners. The constant influx of technology and partners is our new reality, and our manual methods cannot keep pace. Relying on in-house subject matter experts diverts resources from other important projects, and assessments become outdated too soon after they are completed.


Get Cyber Risk Intel delivered to your inbox each week: