Drive Action Through Third-Party Risk Insights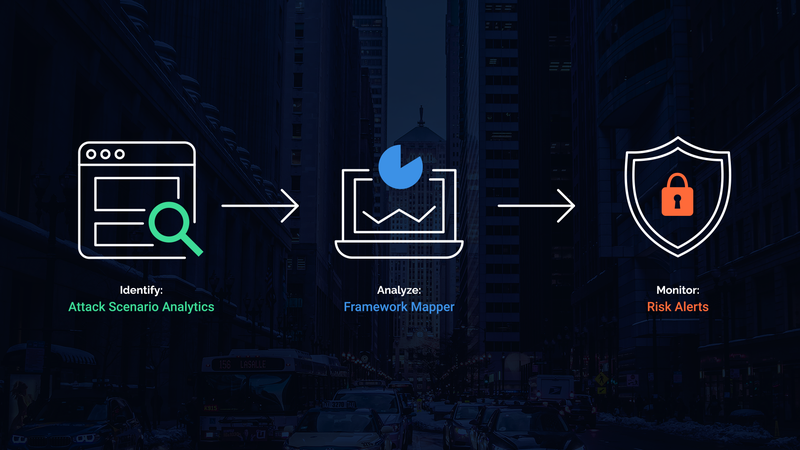 There are many third-party risk management options on the market, and while some can give you a little bit from column A and a little bit from column B and sometimes a taste of something truly useful (but it's hidden by an unearned paywall), we find that what most of you need is a direct line of sight.
Third-Party Threat Tools is a risk solutions journey bringing together three powerful CyberGRX features to help you identify, analyze, and monitor threats. The family of features includes:
Attack Scenario Analytics

The Framework Mapper

Risk Alerts
Built on trusted data with clear, actionable insights, you can refine your third-party cyber risk program from an "I'm not sure what risk my vendors pose" to "Hey, vendor! This sub-control isn't up to my standard. Let's talk."
Knowing Your Risk Is Where We Start
A robust risk program informs you of relevant risk areas vital to your business but also sheds light on areas that may need to be added to your radar.
With Attack Scenario Analytics, we map our attested data to the 12 key security categories established by the global standard MITRE ATT&CK framework. If you're only focused on learning there are low levels of risk regarding "Initial Access," you can do that, but did you know that this vendor also has high levels of risk regarding "Exfiltration?" The blindspots are where vulnerabilities lie, which leads to another common issue we often hear: "I requested an assessment, but the vendor is taking forever, and we need to move now." We have a solution to that.
CyberGRX's Predictive Data, with up to 91% accuracy, is now available with Attack Scenario Analytics by simply hitting a toggle. So if a vendor doesn't have an attested assessment but predictive data is available, you can use the predictive risk value to make informed decisions, save time, and move faster.
Now that we understand what areas of risk are essential to us, we move on to analyzing these risk areas.
Discover Vulnerabilities Important to You
The beauty of CyberGRX is that no matter how you want to uncover risk, we have a lens for you to look through. If you want to learn how your vendor compares against a threat profile based on a real-life attack or an industry framework like HIPAA or NIST, the Framework Mapper is the tool for you. This tool analyzes your vendor and provides specific gapped security controls for you to review so you can reduce time on reviewing assessments to find a problem. If it may be detrimental to your operations, use this information to work with your vendor on a solution. If it would have a low impact, feel confident in moving them to a lower priority and save your resources from requesting unnecessary additional assessments.
Achieve A Proactive Risk Program
Once you're in the swing with your vetted vendor, Risk Alerts continuously monitors data leaks, domain abuse, ransomware extortion, C2C comms, breach intelligence, the dark web, and more. If a vendor triggers any 41 Risk Rules, you'll be alerted with details to determine the possible impact on your business so you can work together with the vendor for a solution.
Fine-Tuned Third-Party Risk Management
If you don't know where to start on a new vendor to understand the known (and unknown) risks they pose to you and what those vulnerabilities are, the family of features in Third-Party Threat Tools can guide your risk program to a clear, actionable path built on trusted data.
Instead of sifting through hundreds of pages of reports, focus on and discover the risk areas that will impact your organization the most with CyberGRX's award-winning platform and leverage the world's largest third-party cyber risk exchange to round out your risk program fully.

Want to learn more about CyberGRX, our third-party risk management platform, and how our threat tools can complement your TPRM program? Book a demo now!
Get Cyber Risk Intel delivered to your inbox each week: