Reduce risk with validated data, analytics, and benchmarking
Third-party cyber risk management is more than just assessments and security ratings. We partner with Recorded Future and RiskRecon to integrate threat intelligence with our structured and validated data sets and apply advanced analytics across those data sets to identify insights and help you reduce risk. Together with enhanced privacy controls, you can effortlessly meet third-party regulatory requirements that apply when data is shared with third parties, reducing your cyber risk even more.
With proven results, leadership can be confident that the best TPCRM solution is protecting the organization
Illuminate, remediate, and reduce vendor risk based on automated inherent risk and attack scenario modeling

Gain a more comprehensive understanding of each of your third-party's security postures in real time via rich threat intelligence from

RiskRecon and Recorded Future

Maintain a continuous and comparative view of risk across your portfolio
Review a before and after comparison of inherent and residual risk to identify the type of attacks your third parties are susceptible to
Seamlessly integrate CyberGRX data into existing vendor risk management processes
Move past point in time assessments to continuous assessments and monitoring

Enhanced privacy controls to help you meet third-party regulatory requirements that apply when data is shared with third parties

Take standard data as input and produces custom output across many custom and industry framework controls to quickly and easily provide risk identification, visibility, and reduction via Framework Mapper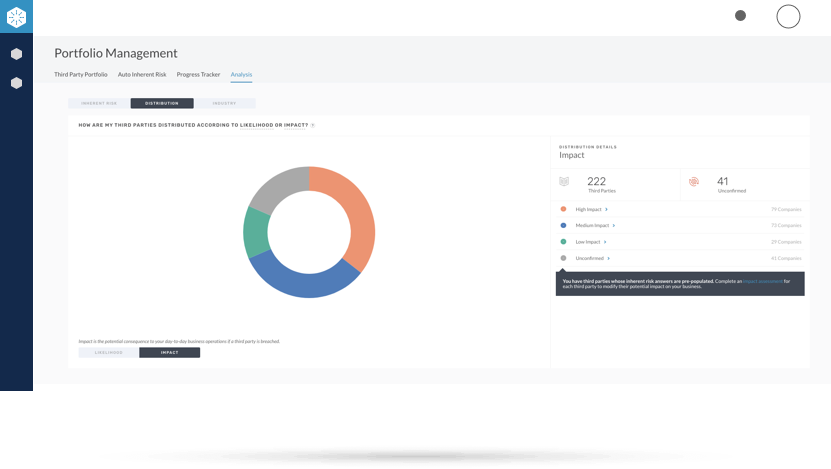 The CyberGRX Exchange is full of data that lets us glean insights, trends, and benchmarks.
Organize
Work with a structured and standardized data set that allows you to run analytics across it and prioritize risk
Benchmarking
Compare individual vendors or entire populations to others on the exchange for benchmarking and risk reducing insights
Strategize
Create a remediation strategy with the most yield leveraging security gap and benchmarking insights
Protect
Feel confident in your understanding of how your third parties are managing privacy in respect to the major privacy regulations
"CyberGRX is a force multiplier for our third-party cyber risk management program. In just the first year we will be able to assess 3x more vendors than we assessed last year and reallocate the resources saved to true risk management and mitigation efforts."
"CyberGRX enables us to conduct quality cyber risk assessments reliably and consistently throughout our operations. Assessments are cost-predictable and readily available, saving our vendors' time and effort and resulting in us being able to assess vendor risk quickly."