3 Steps to Streamline the Vendor Risk Assessment Response Process
Much of today's news and guidance around third-party risk management focuses on the upstream customer, the organization doing the risk assessment.
With the continued drumbeat of third-party related data breaches, those organizations are being advised, rightfully so, to apply the right level of due diligence to their third parties. But there is another side to this story, and that is the third parties being assessed. Many of these third parties are manually filling in hundreds to thousands of redundant risk assessments annually, taking time away from strategic initiatives that could be used to proactively reduce risk.
We've pulled together three easy steps to help you streamline that process, so you can provide assurance to your upstream partners that they are protected while showing them how you are continuously improving your security posture.
Related: The ONE Thing All Modern Third-Party Cyber Risk Management Programs Do
Step 1: Stop Using Static Spreadsheets & Start Sharing Dynamic Data
For years, participating in a third-party assessment consisted of your upstream vendors sharing a spreadsheet questionnaire with you, asking countless (often repetitive) questions in order to understand the risks you expose them to by being introduced into their partner ecosystem.
Static assessments require continuous updates because the threat landscape is continuously evolving. The assessment you filled out last year, or even last month is likely already outdated. In addition, spreadsheets require a lot of manual data entry which is not only an inefficient means of gathering information but also significantly increases the likelihood of accidental entry of erroneous data. Third-party risk assessments need to be agile, accurate, centralized, and comprehensive to be useful to everyone involved in the process. They should also be dynamic so your upstream partners have ongoing, up-to-date visibility into your security posture, not just visibility into last year.
Step 2: Leverage a Risk Assessment That Can Be Shared With Multiple Upstream Partners
Think about your current assessment response process. You receive a request to complete a new assessment questionnaire; you start to answer the questions and while doing that, you get a request for an update by an existing partner. At the same time, you know that you've got an annual assessment review coming up with a third client.
Each assessment may feature slightly different questions, but they are largely redundant and often looking for the same thing – can you securely protect their data. Nonetheless, due to the slight variances and limited nature of the spreadsheet format, you can't repurpose the information from one assessment to the other, and have to find the time and resources within your organization to satisfy each individual request.
Wouldn't it be simpler if you could do this once and then share the appropriate level of information with each of your upstream customers?
By completing a comprehensive assessment and sharing that through a one to many exchange, you can provide your assessment data once and share it with multiple customers. In addition, once your data is in an exchange you can update it with mitigation and remediation efforts – ensuring your upstream partners always have a current view of your security posture.
Plus, you get to select which upstream partners can see your data, and ensure they are viewing the most up-to-date data. It gives you the control to ensure your clients have exactly the right amount of information based on the level of access and risk you present to them.
Learn more about the benefits of an exchange here.
Step 3: Proactively Keep Your Upstream Partners Up-To-Date
No one has a perfect security profile which means that everyone is working to improve it, or at least everyone should be. However, it's difficult for your upstream partners to see how you're actively improving your risk profile when they only have visibility into your mitigation activities once a year.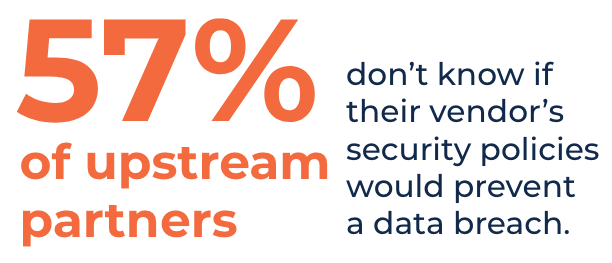 Proactively updating your security posture and sharing that data with your clients serves two purposes.
It gives your partners better, more accurate and timely insight into your risk mitigation activities
It illustrates to your clients that security and data protection is as important to you as it is to them and that you have a plan and strategy in place for continual improvement
Moving to a modern risk assessment response approach enables you to proactively update your upstream partners on your remediation and mitigation efforts. For instance, a risk exchange and comprehensive, standardized assessment will help you easily share data with your customers while streamlining assessment requests.
Of course, there are more steps you can take to streamline your 3rd party response process – we have them all listed here. Following these steps will reduce the amount of time spent on inefficient static spreadsheets and endless risk assessment updates. It will help you become a better, more trusted partner and give you more time to focus on improving your own security. CyberGRX was designed to help reduce the burden on the current inefficiencies placed on third parties, so you can spend more time on strategic risk management.

Get Cyber Risk Intel delivered to your inbox each week: