Strategies to Reduce Your Third-Party Risks and Maximize Your TPRM Budget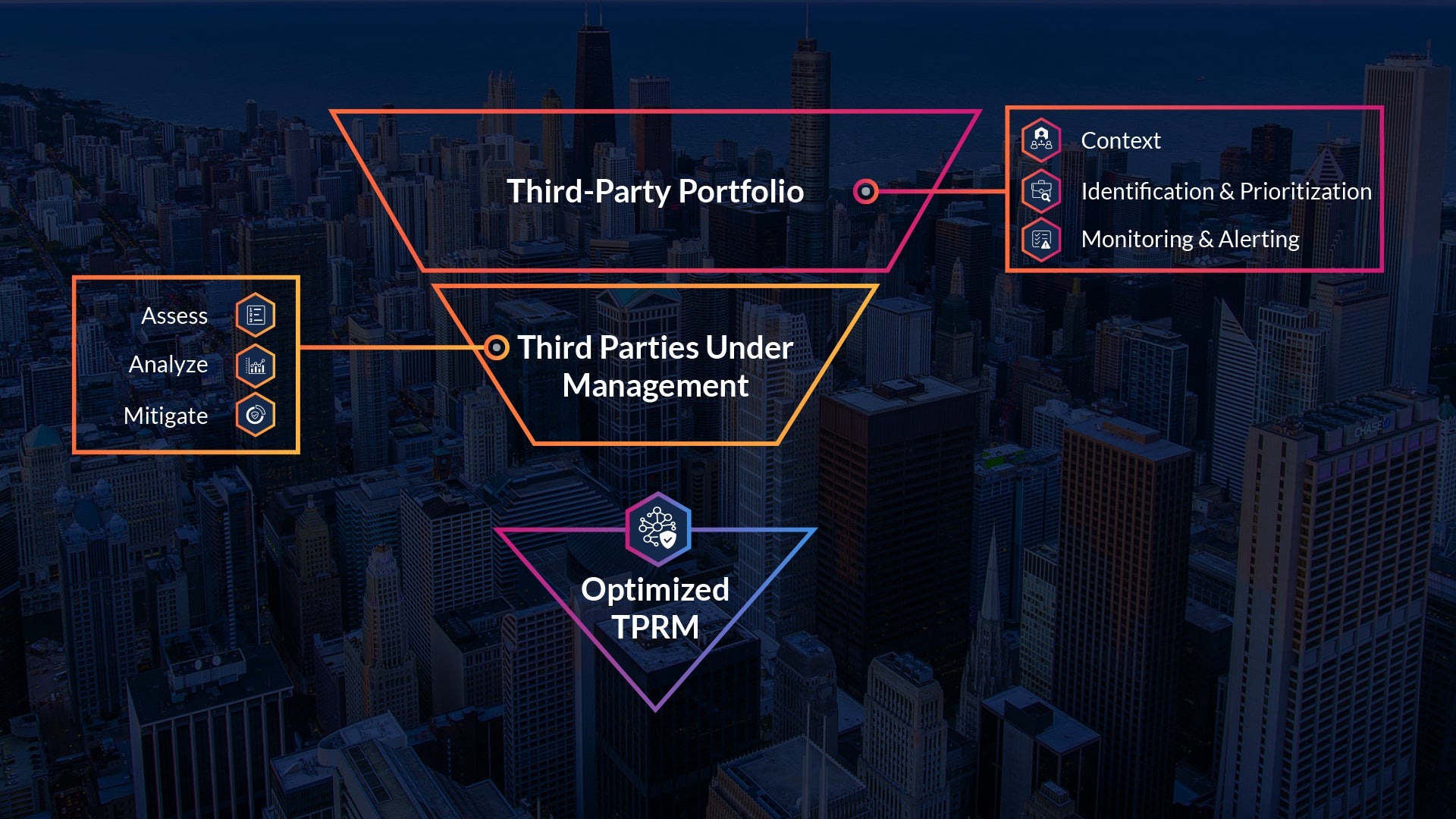 Security professionals focus on delivering the absence of something: no cyber incidents, no breaches, just business as usual. Yet the goal of "another boring day at the office" is getting harder and harder as third-party adoption accelerates.
Third parties represent an organization's greatest– and fastest-growing– risks, with 67% of breaches now linked to a third party. Threat actors prey on smaller organizations with weaker security programs as a means to infiltrate large enterprises.
Additionally, knowing which third parties are most susceptible to cyber attacks is difficult. Many cybersecurity teams are overwhelmed trying to keep their organizations safe and their business operating without disruption– and spend a lot of money in the process, too.
From our experience working with thousands of organizations around the world, most security teams are attempting to do one of the following:
They spend an inordinate amount of time trying to

find the risk needle in their third-party haystack

, with no real data on where to focus their attention.

Or, they try to

boil the risk ocean

by gathering as much data on as many third parties as they can,

bogging down the team and leaving little-to-no time for data analysis.
Both approaches lead to the same outcome: inefficient and ineffective third-party risk management, overworked teams, painfully slow vendor evaluation timelines, and a security program that isn't keeping pace with the speed of business.
It's no wonder security professionals are stressed.
Studies show that when individuals cannot differentiate between the different levels of threats and treat all threats with the same response, it leads to double the stress hormones. Just like Emergency Room teams triage patient care, so must cybersecurity teams prioritize their risks.
And that's the basis for CyberGRX's model: we help you identify your risks, prioritize them by which ones are most critical, and then provide a cost-effective means to manage them over time.
Gaining TPRM Efficiency: Start With a Broad Portfolio View
Stage

Objective

CyberGRX Features

Context

Understand your third-party relationships and your organizational risks

Risk data on 13,000 companies

Exclusive portfolio-wide view of your third parties

Smart risk ranking, to reveal your biggest risks

Identification & Prioritization

Flag areas of biggest concern

Portfolio insights across industry frameworks and threat profiles

Monitoring & Alerting

Stay informed if a third-party risk posture changes

Risk Monitoring & Alerting across your entire portfolio
Most enterprises have thousands of third parties, and it's simply not practical nor feasible to assess every one of them. Yet, you need some basis for your decisions– either assurance that your third parties take security as seriously as you do or evidence indicating that a specific vendor needs deeper evaluation.
Starting with a broad view of your entire third-party portfolio offers many advantages, including extending your financial and human resources. A holistic portfolio view provides a comprehensive overview and enables you to quickly identify trends. In our Emergency Room comparison, this is the triage stage, or determining which third parties represent the most urgent risks.
What you're looking for in the portfolio-wide view:
Context
Understand your third-party relationships: how they interact with you and who has access to your data and network.
According to a recent data risk study, 65% of organizations don't have good visibility into their third-party vendors. Similarly, hidden vulnerabilities exist within your ecosystem– you just don't know what, where, with whom, or to what extent. The importance of visibility cannot be underestimated; you simply can't manage what you don't see. In this stage, you're gaining a better understanding of your inherent risks, then applying an appropriate framework to prioritize them.
Identification & Prioritization
Flag areas of concern to narrow your focus on the third parties that may not meet your security standards.
20% of your third parties are high-risk– do you know which ones?
Your goal at this stage is to filter out the noise and isolate the risks that matter most to your organization. To do so, apply an industry framework, such as PCI-DSS, NIST 800, ISO 27001, or another of your choice, to understand where third-party control gaps exist and who has the greatest potential to expose you.
Monitoring & Alerting
Stay informed of the security posture of your third parties, including when something has changed.
All companies are in a constant state of flux, yet only 39% of organizations are continuously monitoring the security posture of their third parties. Insufficient processes often yield poor results– and expensive consequences. Continuous monitoring provides an effective means to keep an eye on known threats and receive alerts when a new one emerges.
Increasing TPRM Effectiveness: Focusing on Your Biggest Risks
Stage

Objective

CyberGRX Features

Assess

Confirm or dismiss your initial third-party findings

Library of 13,000 attested Assessments

Risk Profiles on more than 250,000 companies

Request an Assessment

Analyze

Understand your level of risk and the implications

Mitigate

Collaborate with the third party to reduce your risks

2-way risk Exchange platform
Now that you've done your initial vendor due diligence, there are likely several third parties with whom you want to dig deeper, get more information about specific areas of concern, and conduct a more extensive evaluation.
We also refer to this stage as "third parties under management," or the third parties who pose a significant risk to your organization's operations, reputation, or financial stability if not adequately monitored and managed over time. In our Emergency Room comparison, these are the third parties you want to "admit" for further observation and care.
This stage, without proper risk prioritization, can lead to higher TPRM costs and longer timelines for vendor decisions. That's the significance of the CyberGRX model and where you gain program and budget efficiencies. Since you've already "triaged" your riskiest third parties, you know exactly who needs a closer look and which control gaps are unacceptable, so you can assign resources accordingly. Additionally, your third party will appreciate that you are focusing on specific areas vs. sending a comprehensive and lengthy questionnaire.
When you Need More
For most organizations, the combination of the third-party portfolio-wide view plus a percentage of third parties under management is sufficient for their program needs. However, we recognize that some organizations may need just a bit more to meet corporate or compliance requirements. For those applications, CyberGRX also offers assessment validation, and portfolio integration and management services.
Right Size Your TPRM Program
Especially in third-party risk management, one size does not fit all. Your risks vary by how many third parties you have, how your third parties interact with your organization, and the internal controls you have in place. CyberGRX's pricing model is designed to meet your specific needs– your portfolio size and the number of third parties you want under management– to give you the most comprehensive risk visibility available on the market today. Pricing starts at $50,000.
Take the next step towards improving your organization's TPRM efficiency and maximizing your cybersecurity budget. Get a quote now and let us help you right size your TPRM program.