Assess & Validate Your Third Parties
CyberGRX's auto-validated, cloud-based assessments are the industry's only comprehensive assessment methodology to manage risk across security, privacy, and business continuity. Our assessments come in multiple tiers and feature skip level logic for easy completion and validation for trusted results.
Modernize and streamline redundant and inefficient processes that come with shared and static spreadsheets
Dynamically

updat

ing assessments

that produce

standardized

and

structured

data

for

analysis

and

benchmarking

, and

always show a vendor's most current security posture

Map to most customer controls as well as industry standards and frameworks via Framework Mapper
Applies attack scenario modeling and inherent risk analysis against assessment results to create a prioritized control gap analysis
Gain

immediate visibility into inconsistencies and contradictions into a third-party's CyberGRX Assessment that highlight potential security gaps in their risk posture

with

Auto Validation

Identify if your third parties could have been impacted by the SolarWinds breach and pinpoints which controls they need to mitigate in order to reduce your exposure with the SolarGate MITRE® Threat Profile
S

atisfies

privacy-related

requirements

focusing on the Identification, Governance,

Control,

Communication,

and

Protection

of

data

which means comprehensive coverage for increasingly global privacy regulations

Gain a more comprehensive understanding of each of your third-party's security postures in real time via rich threat intelligence from RiskRecon and Recorded Future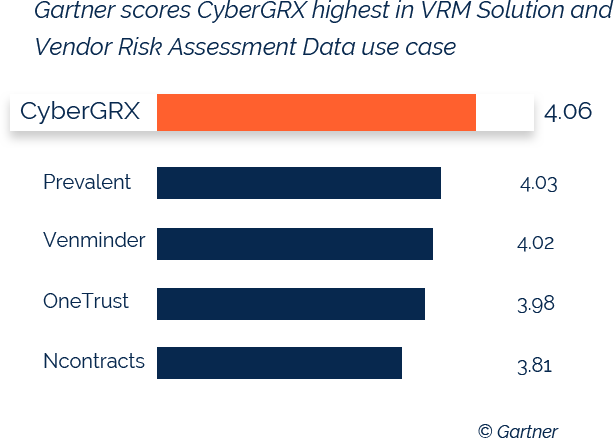 Our Assessment Tiers
Tier 1 Risk
Tier 1 assessments are ordered on your riskiest vendors that create significant business exposure from both a high likelihood and high impact perspective.
Tier 2 Risk
Tier 2 assessments are ordered on vendors that pose a significant amount of risk but are not your riskiest. Significant risk may apply to vendors who have access to your internal networks or customer data.
Tier 3 Risk
Tier 3 assessments are ordered on those vendors which pose the lowest risk to your organization.
"CyberGRX is a force multiplier for our third-party cyber risk management program. In just the first year we will be able to assess 3x more vendors than we assessed last year and reallocate the resources saved to true risk management and mitigation efforts."
"CyberGRX enables us to conduct quality cyber risk assessments reliably and consistently throughout our operations. Assessments are cost-predictable and readily available, saving our vendors' time and effort and resulting in us being able to assess vendor risk quickly."