Reduce risk with validated data, analytics, and benchmarking
Third-party cyber risk management is more than just assessments and security ratings. We integrate threat intelligence with our structured and validated data sets and apply advanced analytics across those data sets to identify insights and help you reduce risk.
With proven results, leadership can be confident that the best TPCRM solution is protecting the organization
Illuminate, remediate, and reduce vendor risk based on automated inherent risk and attack scenario modeling
Maintain a continuous and comparative view of risk across your portfolio
Review a before and after comparison of inherent and residual risk to identify the type of attacks your third parties are susceptible to
Seamlessly integrate CyberGRX data into existing vendor risk management processes
Move past point in time assessments to continuous assessments and monitoring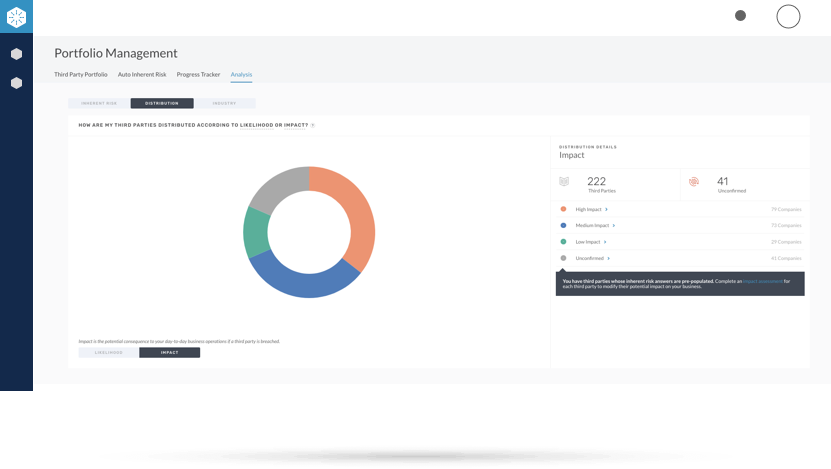 The CyberGRX Exchange is full of data that lets us glean insights, trends, and benchmarks.
Organize
Work with a structured and standardized data set that allows you to run analytics across it and prioritize risk
Benchmarking
Compare individual vendors or entire populations to others on the exchange for benchmarking and risk reducing insights
Strategize
Create a remediation strategy with the most yield leveraging security gap and benchmarking insights
"CyberGRX is a force multiplier for our third-party cyber risk management program. In just the first year we will be able to assess 3x more vendors than we assessed last year and reallocate the resources saved to true risk management and mitigation efforts."
"The support and ongoing collaboration we've received from CyberGRX and their customer success team has been extremely responsive and helpful. It has truly changed the way we assess vendors and manage third-party risks. Our executive team is impressed by their innovative third-party risk management approach, and we are excited to be a part of their Exchange."