Assess & Validate Your Third Parties
CyberGRX cloud-based assessments are the industry's only comprehensive assessment methodology to manage risk across security, privacy, and business continuity. Our assessments come in multiple tiers and feature skip level logic for easy completion and validation for trusted results.
Modernize and streamline redundant and inefficient processes that come with shared and static spreadsheets
An inside out validated approach that dynamically updates as threat levels change or as a vendor updates their security posture
An enterprise-level assessment that produces standardized and structured data for analysis and benchmarking
CyberGRX's standardized and structured dataset allows for mapping to most customer controls as well as industry standards and frameworks (NIST –800.53, NIST-CSF, ISO 27001, PCI-DSS, HIPAA, etc.)
Applies attack scenario modeling and inherent risk analysis against assessment results to create a prioritized control gap analysis

Based on industry standard frameworks such as NIST, GDPR, CCPA, APP, etc. CyberGRX provides comprehensive coverage for increasingly global privacy regulations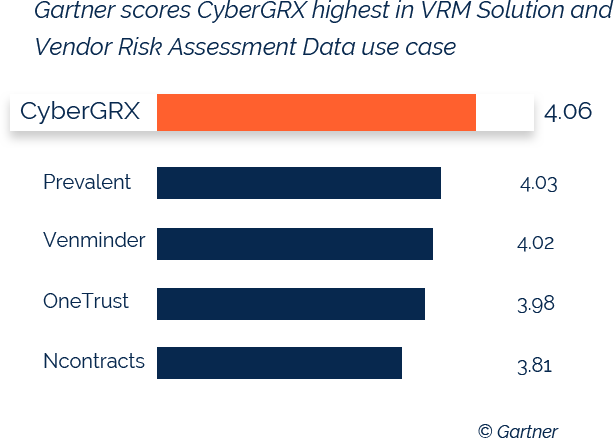 Our Assessment Tiers
Tier 1 Risk
Tier 1 assessments are ordered on your riskiest vendors that create significant business exposure from both a high likelihood and high impact perspective.
Tier 2 Risk
Tier 2 assessments are ordered on vendors that pose a significant amount of risk but are not your riskiest. Significant risk may apply to vendors who have access to your internal networks or customer data.
Tier 3 Risk
Tier 3 assessments are ordered on those vendors which pose the lowest risk to your organization.
"The support and ongoing collaboration we've received from CyberGRX and their customer success team has been extremely responsive and helpful. It has truly changed the way we assess vendors and manage third-party risks. Our executive team is impressed by their innovative third-party risk management approach, and we are excited to be a part of their Exchange."
"CyberGRX is a force multiplier for our third-party cyber risk management program. In just the first year we will be able to assess 3x more vendors than we assessed last year and reallocate the resources saved to true risk management and mitigation efforts."
"CyberGRX enables us to conduct quality cyber risk assessments reliably and consistently throughout our operations. Assessments are cost-predictable and readily available, saving our vendors' time and effort and resulting in us being able to assess vendor risk quickly."