Accelerate & Elevate TPCRM
Traditional approaches to third-party cyber risk management are painfully slow or ripe with false positives - leaving you vulnerable and reactive. The CyberGRX platform includes robust data sets, third-party threat intelligence from RiskRecon and Recorded Future, analytics, and machine learning that provides you with fast and accurate insights throughout the entire third-party risk management journey.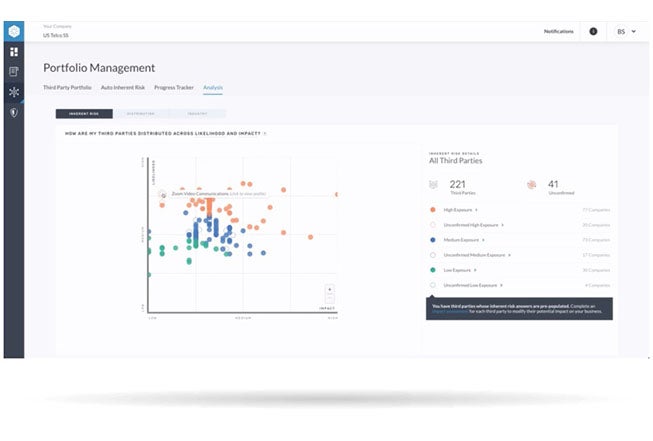 An end-to-end solution that helps you identify, prioritize, and reduce risk at every step
Cyber risk data on thousands of companies

Auto Inherent Risk (AIR) Insights

™

Dynamic & validated assessments
Residual Risk benchmarking
Continuous monitoring
Third-Party threat intelligence data via RiskRecon and Recorded Future
A robust suite of services to facilitate vendor engagement
Ingest, assess, validate, and monitor every third-party through a single pane of glass
Identify & Prioritize
Rapidly organize and prioritize your third-party vendor population with automated inherent risk insights.
Assess & Validate
Take an inside-out look at your vendor ecosystem to uncover critical security gaps at the individual and ecosystem level with third-party risk intelligence data from RiskRecon and Recorded Future.
Reduce Risk
Take action with confidence, knowing you've identified and acted on your third-party security control gaps.
Enterprise Advantages
Join a community of like-minded innovative risk professionals
Load vendors and immediately receive prioritized TPCRM assessment strategy based on risk
If your vendor assessments are not already on the exchange, simply order them
Receive validated, dynamic assessment data
Review residual risk insights and create a prioritized remediation strategy
Compare your vendors to industry and your own benchmarks
Learn More
Third-Party Advantages
Complete one CyberGRX assessment and say goodbye to static spreadsheets
Receive an independently validated assessment of your security posture
Map the CyberGRX assessment to industry controls and frameworks
Identify and prioritize security gaps with the most yield
Share your assessment with as many customers as you like
Easily update your assessment as you remediate or change security controls
Learn More