63.883
Companies on our Exchange
Companies from all industries are improving risk management for their business, vendors, and customers with CyberGRX. Together, we can use technology and innovation to reimagine the TPCRM journey.

CyberGRX customers love our platform - read some of their testimonials from Gartner Peer Insights.
Together we can Modernize TPCRM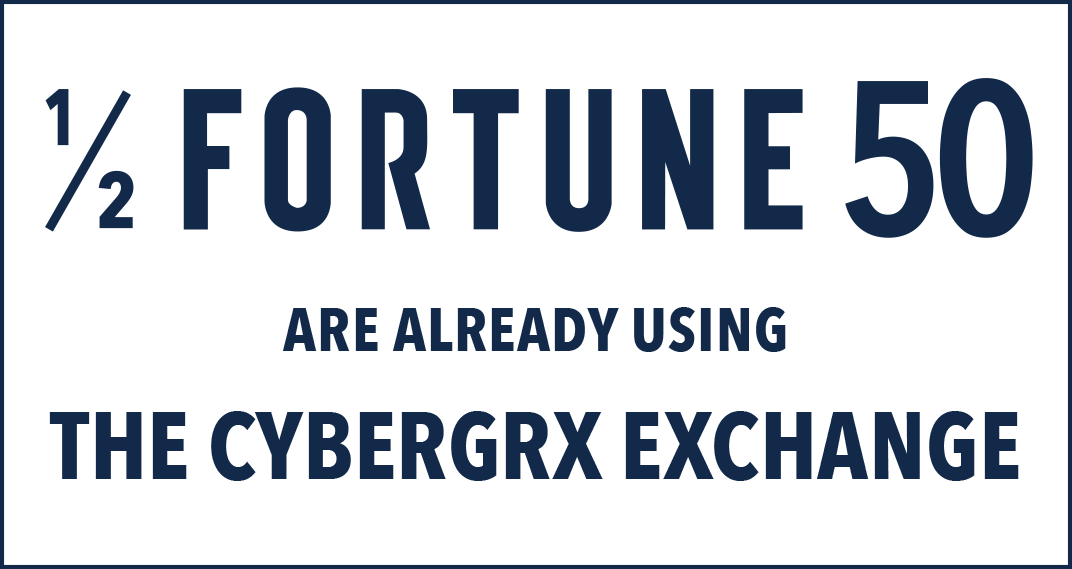 Third parties spend 15,000+ hours completing assessments each year.
– Ponemon Institute
Less than 17% of organizations feel their current systems effectively managed third-party risk.
– Ponemon Opus 2017 Third Party Data Risk Study
Approximately 66% of companies extensively or significantly rely on third-party vendors.
– The Institute of Internal Auditors Research Foundation (IIARF)
57% of organizations don't have an inventory of all 3rd parties
– PwP 2016 Global State of Information Security Report
"CyberGRX is a force multiplier for our third-party cyber risk management program. In just the first year we will be able to assess 3x more vendors than we assessed last year and reallocate the resources saved to true risk management and mitigation efforts."
"Third-party risk is escalating dramatically as the vast majority of enterprises are increasingly reliant upon outside suppliers. Traditional vendor attestations are woefully insufficient and the CyberGRX Platform will provide a construct for reducing third-party risk with a programmatic, prioritized construct that is already backed by the world's best companies."
Bob Brennan
CEO of Veracode
"Third party relationships represent some of the hardest-to-manage cyber risks at organizations of all types. It's a unique challenge that historically has only been solved by adding headcount – an inefficient and difficult to scale approach. Fortunately, the CyberGRX Platform provides a substantially smarter and more secure solution."
Jay Leek
Director of ClearSky Security
"Much is made today of the insider threat. As many as 60% of attacks are attributed to insiders. But a close look (under the covers) reveals that many of those attacks are the result of compromised credentials and through third party relationships with insider access. The CyberGRX Platform provides a much more efficient way to evaluate and combat these threats."
Art Coviello
Former CEO, RSA
"Logicworks' experience with CyberGRX has been very rewarding. CyberGRX has enabled our team to do more third-party risk assessments with less effort and the quality of information we receive from our vendors through their assessment has given us greater confidence in the security of our third-party ecosystem. I recommend them to colleagues and speak highly of them at all the CISO events I attend."
Matt Sharp
CISO of Logicworks
"Conducting this assessment through the CyberGRX platform has been a great experience for me and I would definitely recommend it to everyone."
Vishal Reddy
Security Engineer of LogicMonitor
"CyberGRX enables us to conduct quality cyber risk assessments reliably and consistently throughout our operations. Assessments are cost-predictable and readily available, saving our vendors' time and effort and resulting in us being able to assess vendor risk quickly."