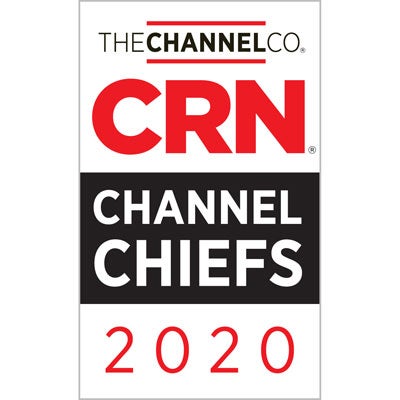 We're excited to announce that CRN®, a brand of The Channel Company, has named Walter Specht Jr., our Director of Channel Development & Alliances, to its 2021 list of Channel Chiefs. The annual CRN® Channel Chiefs list recognizes top IT channel vendor executives who continually demonstrate outstanding leadership, influence, innovation, and growth. As leader of the CyberGRX Global Partner Program, Specht has excelled in these areas to grow the third-party cyber risk management (TPCRM) provider's international presence and impact.
"It is an honor to be chosen by CRN for this prestigious award. This recognition is a reflection of our team's continued efforts to build important relationships in new and emerging markets," said Specht, "Partners who engage with CyberGRX universally recognize that TPCRM is a top priority issue. Today's enterprises are looking for solutions to modernize and scale their TPCRM programs while mitigating third-party risk. The potential offered by our Exchange's standardized data to create an informed and cohesive strategy positions CyberGRX as the best partner to modernize the management of third-party cyber risk moving forward."
As Director of Channel Development & Alliances at CyberGRX, Walter Specht, Jr. oversees the CyberGRX Global Partner Program. Armed with an innovative, proven approach to third-party cyber risk management, the Global Partner Program works with partners including top technology resellers, MSSPs, consultancies, and system integrators. Since the program's inception in 2018, Specht has led CyberGRX to onboard more than 46 partners in the United States, Canada, UK, and Australia, including notable deals won with top Fortune 100 companies in finance, retail, healthcare, and the energy sectors. Overall, the financial services and banking, insurance, technology, and retail industries have benefited the most from the program.
"CRN's 2021 Channel Chiefs list includes the industry's biggest channel evangelists, a group of individuals who work tirelessly on behalf of their partners and drive growth through the development of strong partner programs and innovative business strategies that help bring business-critical solutions to market," said Blaine Raddon, CEO of The Channel Company. "The Channel Company is proud to recognize these channel influencers and looks forward to following their continued success."
The 2021 Channel Chiefs are prominent leaders who have influenced the IT channel with cutting-edge strategies, programs and partnerships. All honorees are selected by CRN's editorial staff based on their dedication, industry prestige, and exceptional accomplishments as channel advocates. The 2021 Channel Chiefs list will be featured in the February 2021 issue of CRN® Magazine and online at www.CRN.com/ChannelChiefs
Join 10,000+ risk professionals who subscribe to the CyberGRX Newsletter