Transform Your TPCRM program
Manage third-party cyber risk with speed and certainty. CyberGRX gives you a prioritized risk map of your entire vendor population and delivers validated risk assessments on any vendor.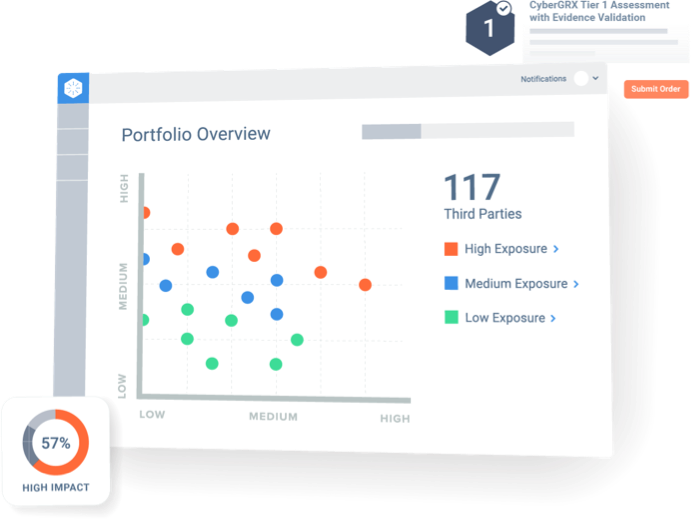 Identify & Prioritize
CyberGRX AIR Insights™ immediately identifies vendors that pose the highest risk to your business. Our innovative software takes the complexity out of decisions on which vendor assessments should be top priority, the first step to efficiently mitigating third-party cybersecurity risks.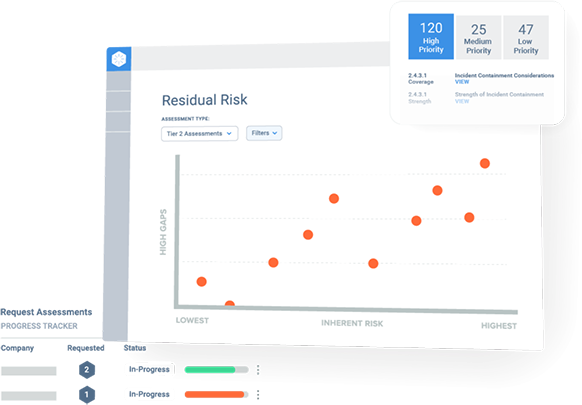 Assess and Validate
Switch from static spreadsheets to dynamic risk assessments. CyberGRX creates visibility into each vendor's security controls to show how they protect against threats and uses analytics as well as independent evidence to validate risk profiles.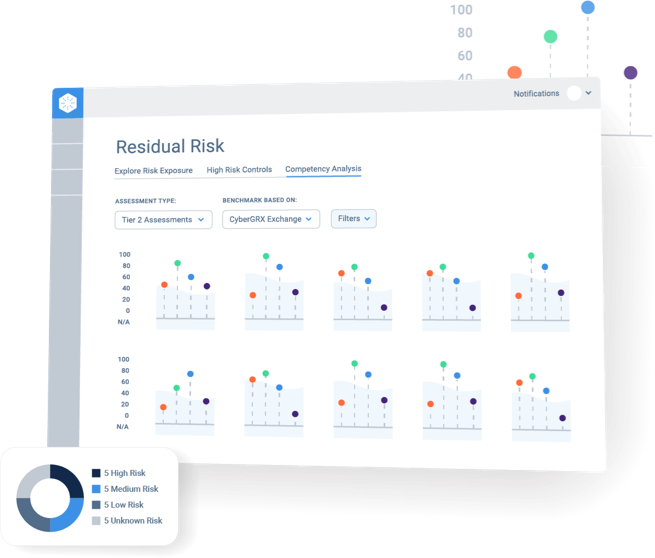 Reduce Risk
Confidently move your TPCRM program forward with validated risk assessments and residual risk data that shows you specifically where to improve risk mitigation and security in your third-party ecosystem.
Upgrade your TPCRM program to the only centralized risk assessment exchange
Manage Risk with Speed and Certainty
Automate a critical task and aggregate cyber risk data from thousands of vendors onto a single platform, then use analytics to focus efforts where they will matter most.
Enhance Business Agility
Confidently modernize your business with digital transformation knowing you've done your due diligence on new cloud providers and vendors.
Build a Long-term Roadmap for TPCRM Success
Replace a static, antiquated process with an innovative TPCRM solution that scales with your growing vendor population.
Comprehensive Visibility
Gain visibility into privacy risk by focusing on core privacy principles like identification, governance, control, communication, and the protection of privacy data.
"CyberGRX is a force multiplier for our third-party cyber risk management program. In just the first year we will be able to assess 3x more vendors than we assessed last year and reallocate the resources saved to true risk management and mitigation efforts."
"The CyberGRX assessment process was comprehensive, yet seamless. The standardized assessment, and their global risk information exchange, will help us save 400 hours or more traditionally spent on filling in assessments, so we can apply that time proactively managing our security for our clients"
"CyberGRX enables us to conduct quality cyber risk assessments reliably and consistently throughout our operations. Assessments are cost-predictable and readily available, saving our vendors' time and effort and resulting in us being able to assess vendor risk quickly."