Transform Your TPCRM program
Manage third-party cyber risk with speed and certainty. CyberGRX gives you a prioritized risk map of your entire vendor population and delivers validated risk assessments on any vendor.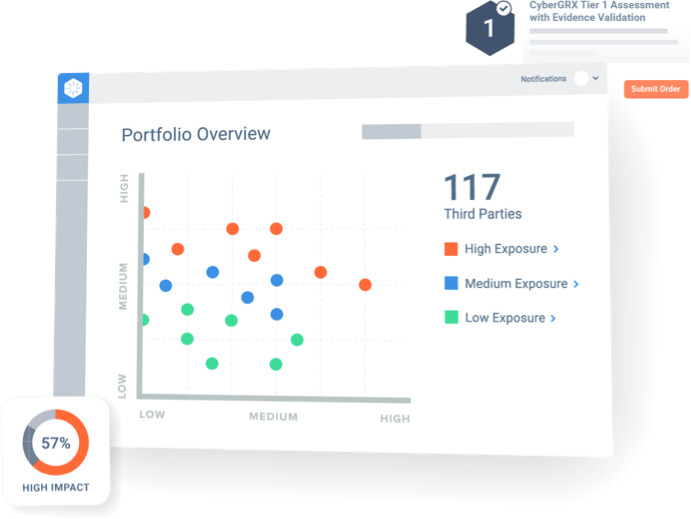 companies on the Exchange
Identify & Prioritize
CyberGRX AIR Insights™ immediately identifies vendors that pose the highest risk to your business. Our innovative software takes the complexity out of decisions on which vendor assessments should be top priority, the first step to efficiently mitigating third-party cybersecurity risks.
companies on the Exchange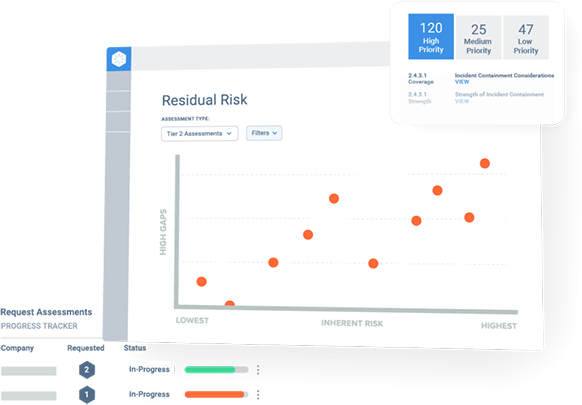 82%
companies on the exchange
82%
companies on the exchange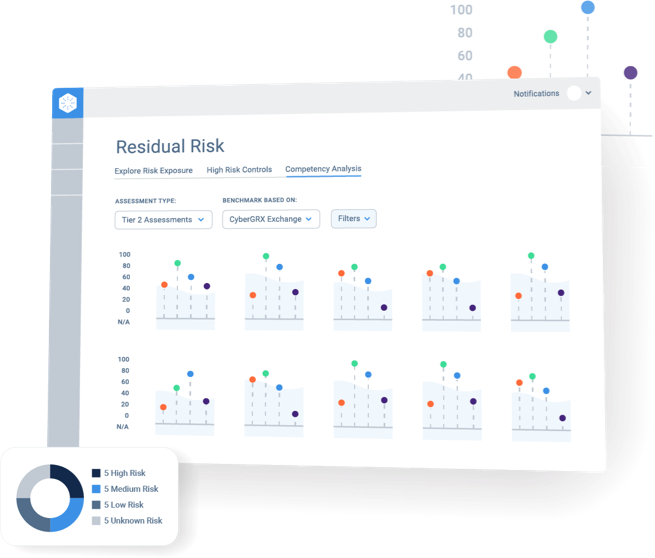 55%
of respondents say with certainty that at least one of these breaches was caused by a third party
55%
of respondents say with certainty that at least one of these breaches was caused by a third party
Upgrade your TPCRM program to the only centralized risk assessment exchange
Manage Risk with Speed and Certainty
Automate a critical task and aggregate cyber risk data from thousands of vendors onto a single platform, then use analytics to focus efforts where they will matter most.
Enhance Business Agility
Confidently modernize your business with digital transformation knowing you've done your due diligence on new cloud providers and vendors.
Build a Long-term Roadmap for TPCRM Success
Replace a static, antiquated process with an innovative TPCRM solution that scales with your growing vendor population.
"CyberGRX is a force multiplier for our third-party cyber risk management program. In just the first year we will be able to assess 3x more vendors than we assessed last year and reallocate the resources saved to true risk management and mitigation efforts."
"The CyberGRX assessment process was comprehensive, yet seamless. The standardized assessment, and their global risk information exchange, will help us save 400 hours or more traditionally spent on filling in assessments, so we can apply that time proactively managing our security for our clients"
George McKevitt PhD
CTO OF COMPLYSCI
"The support and ongoing collaboration we've received from CyberGRX and their customer success team has been extremely responsive and helpful. It has truly changed the way we assess vendors and manage third-party risks. Our executive team is impressed by their innovative third-party risk management approach, and we are excited to be a part of their Exchange."
"CyberGRX enables us to conduct quality cyber risk assessments reliably and consistently throughout our operations. Assessments are cost-predictable and readily available, saving our vendors' time and effort and resulting in us being able to assess vendor risk quickly."